There are 3 cabins on the campsite
We have renovated all the cabins and equipped them with new furniture, beds and utensils
Check in from 15:00 and check out no later than 11:00
The service block is close by with showers, toilets and a kitchen. Tokens are needed to get hot water in the showers, which can be purchased at reception.
There is a barbecue available for our guests.
---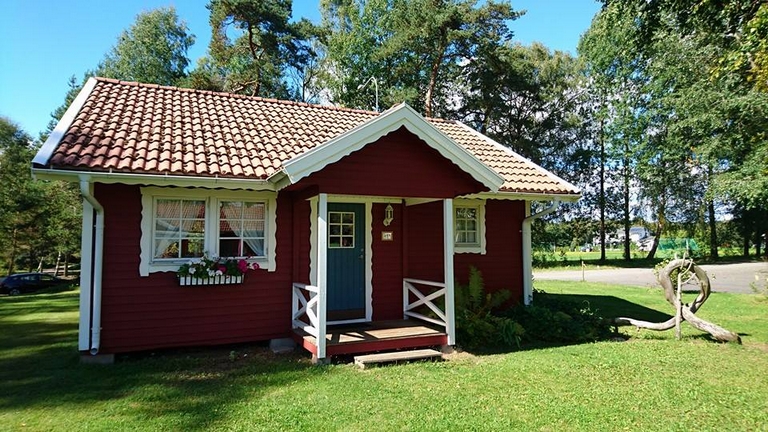 Cabin Nissan
The cabin is 42 m²

5 bed cabin consisting of 1 double bed, 1 family bed (90 cm + 140 cm), sofa bed 140 cm
The kitchen is equipped with fridge, hob, utensils, coffee maker, etc.
There is no water in cabin, the service block is just outside.
Dog friendly. No smoking
Price 5 people
Low season 26/4–16/6 & 25/8-22/9:
SEK 760 /day
High season 17/6–26/8:
SEK 980 /day
Final cleaning: SEK 650 .
Bed linen and a towel: SEK 120 per person
Rent extra bed/ travel cot (baby): SEK 100 / pc
---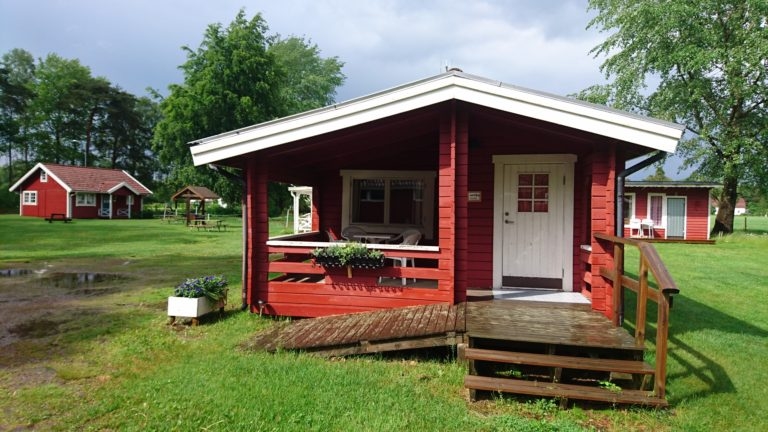 Cabin Lagan
The cabin is 23 m²
5 bed cabin consisting of 1 double bed and 1 family bed (90 cm + 140 cm) in sleeping alcove
The kitchen is equipped with fridge, hob, utensils, coffee maker, etc.
There is no water in cabin, the service block is just outside
Dog friendly. No smoking
Price 5 people
Low season 26/4–16/6 & 25/8-22/9:
SEK 650 /day
High season 17/6–26/8:
SEK 870 /day
Final cleaning: SEK 550
Bed linen and a towel SEK: 120 per person
Rent extra bed/ travel cot (baby): SEK 100 / pc
---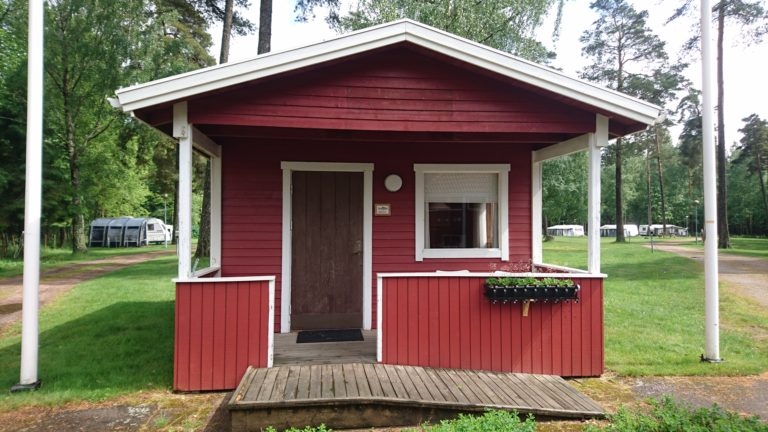 Cabin Viskan
The cabin is 11 m²
3 bed cabin consisting of 1 family bed (90 cm + 140 cm)
The kitchen is equipped with fridge, hob, utensils, coffee maker, etc.
There is no water in cabin, the service block is just outside
Dog friendly. No smoking
Price 3 people
Low season 26/4–16/6 & 25/8-22/9:
SEK 495 /day
High season 17/6–26/8:
SEK 650 /day
Final cleaning: SEK 450
Bed linen and a towel SEK: 120 per person
Rent extra bed/ travel cot (baby): SEK 100 / pc
---